Do you find yourself emailing the same message over and over again?
Or find it difficult to pick a meeting time that works for everyone?
If so, then CloudHQ is about to be your lifesaver because it does all of the following:
Backup and Sync
Export Emails to Google Sheets
Gmail Label and Email Sharing
Free Email Tracker
Save Emails to PDF
Save Emails to Google Drive
Meeting Scheduler for Gmail
Gmail Email Templates
Multi Email Forward for Gmail
Auto BCC for Gmail
Gmail Snippets
Gmail Copilot
MailKing – Mass Emailing from Gmail
Gmail Auto Follow Up
Free Video Email for Gmail
Free Screencast Recording for Gmail
Gmail SMS Alerts
Gmail Notes
Save and Backup My Emails
Gmail Screenshot
Save Emails to Dropbox
Convert Google Docs to Gmail Drafts
Share an Email as a Link
Rename Email
Snooze Email
Schedule Email
Free HTML Editor for Gmail
Free Email Tracking Blocker
Gmail URL Link Preview
Gmail Web Clipper
But I'm going to cover my three favorite CloudHQ features.
Gmail SMS Alerts So That I Never Miss An Important Email
You can be notified of important incoming email messages by setting up your Gmail inbox with text notifications. This is perfect for real estate investors who spend so much time on their phone that they never miss an opportunity to make a deal, or have the best chance at selling more properties.
You can even take it a step further by planting a unique phrase like "With SunnyNest Homes, you'll be as happy as a frog in a pond" that will be the trigger. Any email that has that phrase will get a text notification so that you don't miss it.
After you set up a phrase, every time an email arrives with that trigger word in the subject line or body of the message, it will send a text notification to your phone. You can choose from any number of phrases for this setting and have alerts sent to either SMS on your cellular plan or Google Voice. This way you are never left wondering if you're missing something important.
The first is a Gmail email templates feature. CloudHQ makes it easy to create and save email templates for common messages that you most often send, so when composing an email, you can insert your template into the message with one click. This saves time on emails I know will be repetitive or similar every time they are sent; instead of crafting each email one at a time, I can just insert the template and get on with my day.
Gmail Email Templates Save So Much Time
The time it takes to write the same email over and over again and is a waste of your precious minutes, but with CloudHQ's Gmail Email Templates you can have all that wasted effort saved as templates. You can save up to 50 at a time, so it's easy for me or any other real estate investor to create templates for just about any situation.
Want to make sure that your tenants have your rent on time? You can create a template that reminds them and then use it every time they're late. This really cuts down on the number of late payments.
Not sure how to finish off a real estate offer? You can have templates for all the different ways you could end your email, and CloudHQ will even send out so many offers or sign so many deals for you. It's like having another assistant working 24/7/365
Meeting Scheduler for Gmail Stops The Back And Forth
If you're like me, the back and forth of scheduling meetings is becoming a huge time-waster.
"Which is better for you? Tuesday or Thursday?"
"Oh, I'm not available either day. Can you do Monday at 2:30?"
"No. But how about 1:30?"
"OK, great. Book it!"
I used to hate that back and forth monotony. I had one time that we were going back and forth for two weeks trying to find a time that worked for the both of us.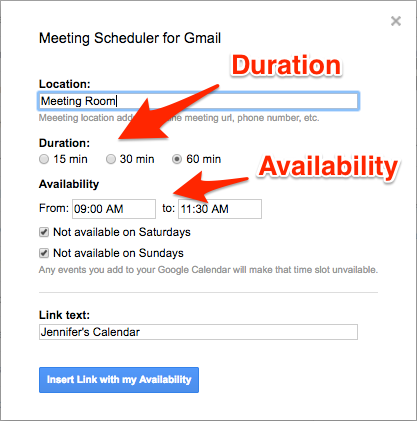 But, with CloudHQ's Meeting Scheduler for Gmail extension, all I have to do is send an email with a link to my app. They can easily see when I'm available to meet and book a convenient time.
That way, we never waste each other's time with unanswered emails. And then once they've scheduled a meeting, it's already placed in my calendar.
No more back and forth to find a time that works for both of us!
And as a little bonus… I don't work with people that can't figure out how to click the link and schedule the meeting. That's saved me from working with morons.
Well, those are my three favorite CloudHQ features. You can find out more by visiting the CloudHQ website.